Marriages are made in heaven and celebrated on earth. Harbhajan Singh and Geeta Basra finally took the plunge on 29 October after a courtship of nearly eight years.The wedding was a grand affair but courtship was initially a low key affair and came out in open only later on. Here we run you through 7 Little Known Facts About Harbhajan Singh and Geeta Basra's Love Story:
I. Geeta hails from England while Harbhajan is from Jalandhar.The love story began in 2007 when they were introduced to each other by a common friend at an event. At that time Geeta had bollywood dreams so, she stuck to the 'good friend' claim.But when her career didn't take wings she decided to concentrate on her personal life.
II. In 2008,Bhajji participated in a dance reality show 'Ek Haseena Ek Khiladi' with tollywood actress Mona Singh. Geeta was spotted at the hotel where Bhajji was staying for the promotion of the event but she continued to be discreet about it.
III. Geeta , in 2010 was seen hovering around Film City Studios on the sets of a dance show 'Zara Nach Ke Dikha' for which the off spinner was shooting as a celebrity guest. At an IPL event hosted by Shahrukh Khan , Khan took potshots at the Cricketer at which the latter blushed bringing out the love in open.
IV.
The couple stepped out together openly for the first time for Formula I race at the Budh International Circuit in Greater Noida. Geeta began accompanying him to IPL bashes. They began to go for dinners together with Sachin Tendulkaar when ever the cricketer was in town.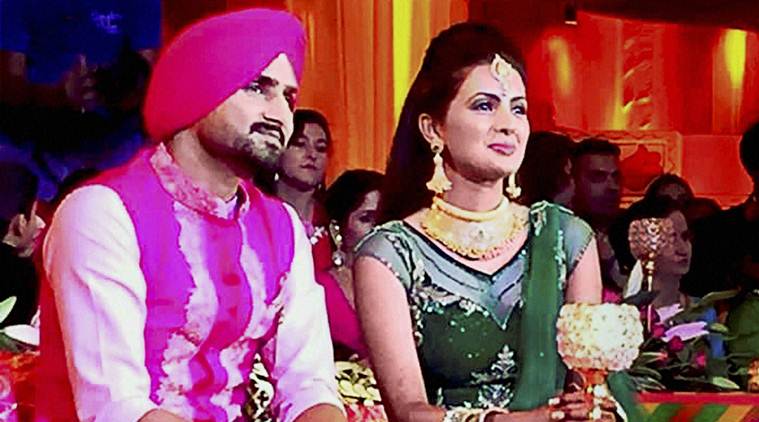 V. Geeta was keen that Harbhajan accompany her to concerts by Romanian band Deepside Deejays of which she is a big fan. This brought their affair into limelight.
VI. A film 'Second Hand Husband' was released in July this year starring Geeta who is shown searching for true love in the film. Harbhajan had a cameo in this movie.When she finds true love , the camera focuses on , YOU GUESSED IT RIGHT , Harbhajan Singh.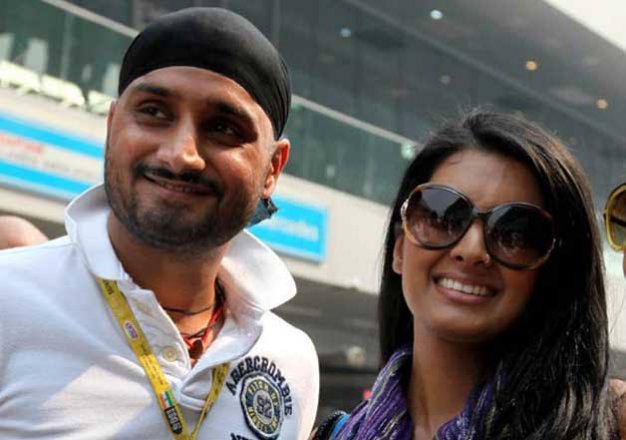 VII. The dreamy romance of cricketer Harbhajan Singh and actress Geeta Basra is what modern day fairy tales are made of.The cheeky affair ended in a glitzy wedding and a happily ever after.........